BCNC Events
---
BCNC Picnic & Breeders Match
Lunch * Games * Obstacle course * Rally practice * Prizes
Date: Sunday, July 28 at 10:00 a.m.
Location: Finley Park: 2060 West College Avenue, Santa Rosa
Judge: Kelley Singleton
Note: Match is pre-entry only.
Potluck: Main course and drinks will be provided. Please bring a potluck side dish.
Last Name starting:
Very Important
The weather may be extremely warm. Come prepared!
» Download Breeders Match Entry Form:
Breeders Match Entry Form (pdf)
---
BCNC Spring Puppy Match &
AKC Canine Good Citizen (CGC) Test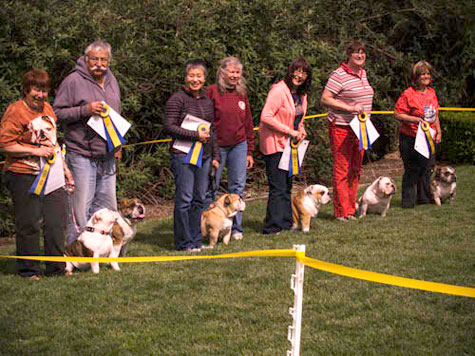 The Bulldog Club of Northern California's Spring Puppy Match held Sunday, April 7, 2013 also included BCNC's 2nd annual CGC event. Pictured above are the teams that earned their CGC title. From left to right, dogs are Kate, Artie, Bailey, Hubbell, Eve, and Dabby. Both young and senior dogs participated! What a great accomplishment for Bulldogs and their owners alike.
---
BCNC Supported Shows for 2013
San Mateo Kennel Club, Vallejo, CA


Saturday, March 23, 2013
Northern CA Non-Sporting Dog Club, Vallejo, CA


Friday, May 17, 2013
Contra Costa Kennel Club, Vallejo, CA


Saturday, June 8, 2013
Del Valle Kennel Club, Pleasanton, CA


Sunday, October 20, 2013
BCNC Supported Shows for 2014
Oakland Kennel Club, Vallejo, CA


Saturday, March 22, 2014
Coyote Hills, Vallejo, CA


Saturday, May 17, 2014
Contra Costa Kennel Club, Vallejo, CA


Saturday, June 7, 2014
Wine Country Kennel Club, Napa, CA


Saturday, November 8, 2014
| Back to Top |