BCNC Meeting Schedule
The following are meeting dates and locations for BCNC club meetings. Not all are confirmed. Please check back for updates.
Club Meetings for 2019
January 26 (Saturday) - Golden Gate KC, Cow Palace, Daly City
Note: General Election and Meeting
February 16 (Saturday) - Santa Clara Valley Kennel Club, San Jose (fairgrounds), following judging
March 23 (Saturday) - Oakland Kennel Club, Vallejo Fairgrounds, following judging
April 20 (Saturday) - Chief Solano Kennel Club, Vallejo Fairgrounds, following judging
May 18 (Saturday) - Coyote Hills Kennel Club, Vallejo Fairgrounds, following judging
June 8 (Saturday) - "Woofstock", Contra Costa KC, Solano County Fairgrounds, Santa Rosa, following judging.
July - No Meeting
August 24 (Saturday) - Donner Trail KC, Dixon Fairgrounds, following judging.
September 21 (Saturday) - Sir Francis Drake Kennel Club, Vallejo,following judging.
October 26 (Saturday), Sacramento Valley Dog Fanciers Association, Dixon Fairgrounds,following judging.
November 9 (Saturday), Wine County Kennel Club, Napa, following judging
December - No meeting
Meetings Held at Shows
Meetings held at shows begin immediately following judging. Check infodog.com or AKC Events Search for show times and ring locations.
NOTE: Bulldog judging at an all-breed show (as opposed to a "Specialty" show which is one breed only) usually begins at 8:00 AM and may only last an hour (depending on the size of the entry—figure 2-3 minutes per dog). Excepting the Golden Gate Kennel Club's annual benched show, dogs show and go. If you are not entered in the show where a meeting will be held, please plan on arriving during the scheduled show time in order to find us and the meeting location.
Note: Unentered dogs are not permitted on show grounds per AKC rules.
Meetings held at Club events and matches begin immediately following lunch.
Meetings Open
Our Club general meetings are open to members and interested guests. Meetings are free to attend, although meetings held at dog shows may require admission fees for non-entrants, and parking fees.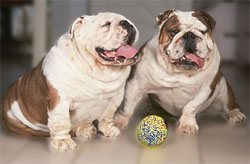 Download Forms
»BCNC Membership Application (pdf)