The Bulldog Club of Northern California, Inc.
Our Purpose
Our Club's purpose is to encourage and promote the quality breeding and exhibiting of purebred Bulldogs according to the Bulldog standard approved by the American Kennel Club; to protect and advance the interests of the breed; to conduct specialty shows and obedience trials; and to represent breeders, exhibitors and members in Northern California.
San Francisco Bulldog fanciers founded the Bulldog Club of Northern California around 1931. Read more about our Club's history.
Membership
The BCNC membership area encompasses Northern California from the Oregon border south to Fresno with the exception of the greater Sacramento area.
Membership dues are $25 per person annually. Those uninterested in membership but wishing to receive the club's newsletter, The California Bulldogge, may subscribe annually for $25.
Meetings
General meetings are open to members and interested guests. Meetings are held monthly. Please check our meeting schedule for dates and locations.
Events
The Bulldog Club of Northern California promotes excellence in the Bulldog breed by educating the Club's members and the public about the breed, and by hosting Bulldog specialties and matches.
The Club's annual events include Bulldog puppy matches, Bulldog specialty shows, a breeder's match, annual picnic, and a Winter Holiday party complete with presentation of annual service and good sportsmanship awards.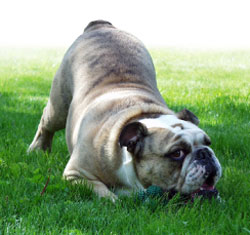 Download Forms
»BCNC Membership Application (pdf)
Contact Us Notice
IMPORTANT
Our Contact Us page has been temporarily disabled due to spam attacks.

Please contact someone on the Breeders Referral page for Club information in the meantime.

For Bulldog Rescue, go directly to: »Northern California Bulldog Rescue or email: NorCalBullResQ@aol.com.