Identifying a Responsible Bulldog Breeder
People Who Breed Dogs and Raise Puppies in the United States Can Be Classified into Three Groups:
1) Those who breed once and never produce another litter.
Relatively few of these people are well informed about puppy-raising, prepared for the experience, or do a good job. They rarely stand behind their puppies. Very few are equipped to care adequately for the puppies until good homes can be found for them all, regardless of how long that takes.
More than 50% of the puppies raised in the U.S. belong to this category.
2) Puppy mills that breed and sell numerous litters of mulitiple breeds, some of which are sold to retailers.
A large percentage of puppies fall into this group. A lot of unhealthy (defective) dogs come from this group. Also, beware of overseas breeders.
3) Experienced dog people who are dedicated to one or two breeds and raise puppies for reasons other than maximum profit.
A relatively small percentage of puppies are born to this group. And, even in this group not all of the breeders are knowledgeable and conscientious.
So, How Do You Identify an Experienced, Conscientious Breeder?
When you inquire about a puppy, the breeder will interview you. They want to know that you can house and raise their puppy appropriately and that their puppy will have one home for its entire life.
The breeder will know the ancestry of the puppies, not just parents, but grandparents and beyond.
You won't see multiple litters of multiple breeds. One to two breeds and a total of one to two litters a year, or fewer, are typical.
You will see evidence (photos, books, possible awards) of long-term interest in the breed. HOWEVER, MEMBERSHIP IN ANY CLUB OR ORGANIZATION DOES NOT GUARANTEE ETHICS.
Puppies will not have been separated from their litter-mates before they are 8 weeks old. However, breeders with puppies over 12 weeks of age will ensure that they separated from each other and will provide individual, and sufficient attention from humans, so the puppies will begin to bond more with people than to dogs.
The breeder will draw up a written contract containing the full agreement between buyer and seller. The breeder will support, help, and advise you throughout the life of the puppy. A responsible breeder will also ask you to return the puppy (or dog) to them at any time if for any reason you can't keep it, and will include this in the contract.
Unless you are serious about becoming a student of your breed and a conscientious breeder, the breeder will encourage you to take a puppy on a spay/neuter agreement or an AKC limited (non-breeding) registration. The responsibility of breeding dogs should not be entered into lightly. The person selling a puppy is responsible for the prevention of over-population and haphazard breeding.
The breeder will insist that you prepare an appropriate place at home for your puppy before you take it. They will personally instruct you thoroughly on puppy feeding and care and will provide the puppy's record of vaccinations, and worming.
Responsible breeders will not guarantee at 8 weeks old that a puppy is show quality or championship material. The only thing that can be guaranteed at 8 weeks old is the pedigree.
Prices for Bulldog puppies vary by area. Research the average price in your location. If the asking price for the dog you want is significantly higher or lower, ask why. (Extreme variations in pricing can be discussed with other knowledgeable Bulldoggers.) Higher price does not guarantee higher quality, better health, or better temperament. Conversely, if the price is too good to be true, it probably is.
Source: Revision of original BCNC article/Ed.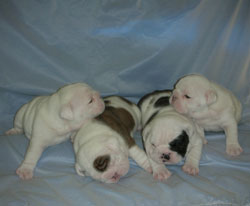 Download Forms
»BCNC Membership Application (pdf)